CALL NOW! (212) 594-7171
Mon-Sat: 8a-9p, Sun: 11a-6p
135 W. 27th St. New York, NY, 10001
We welcome new patients, emergencies and second opinions.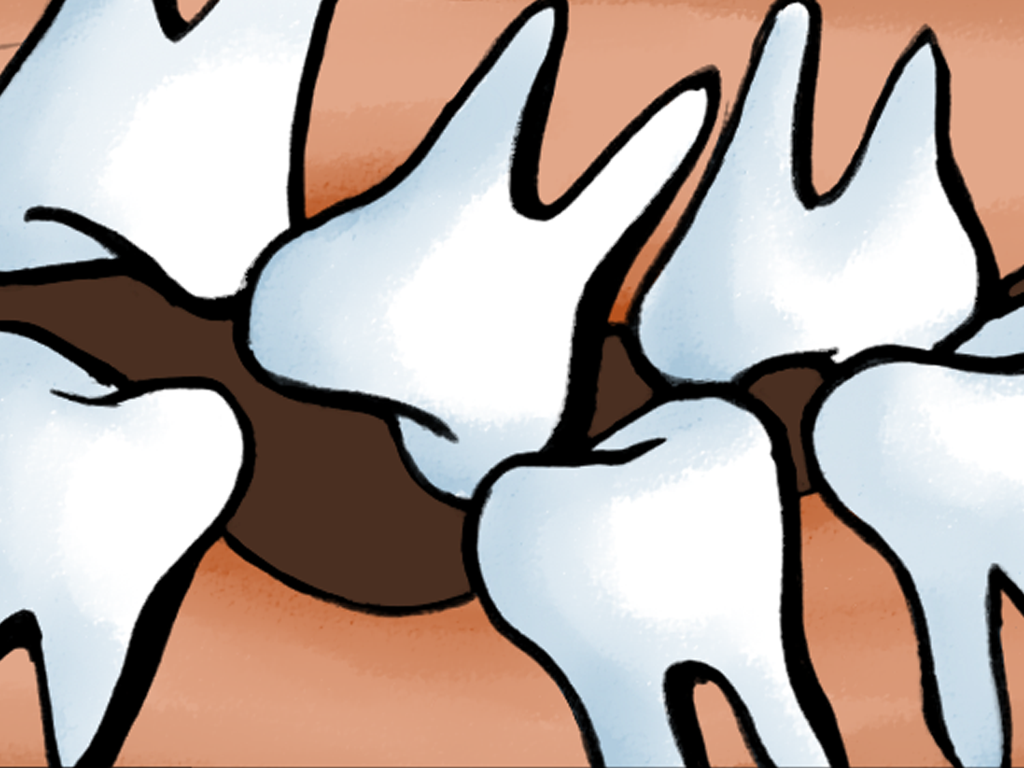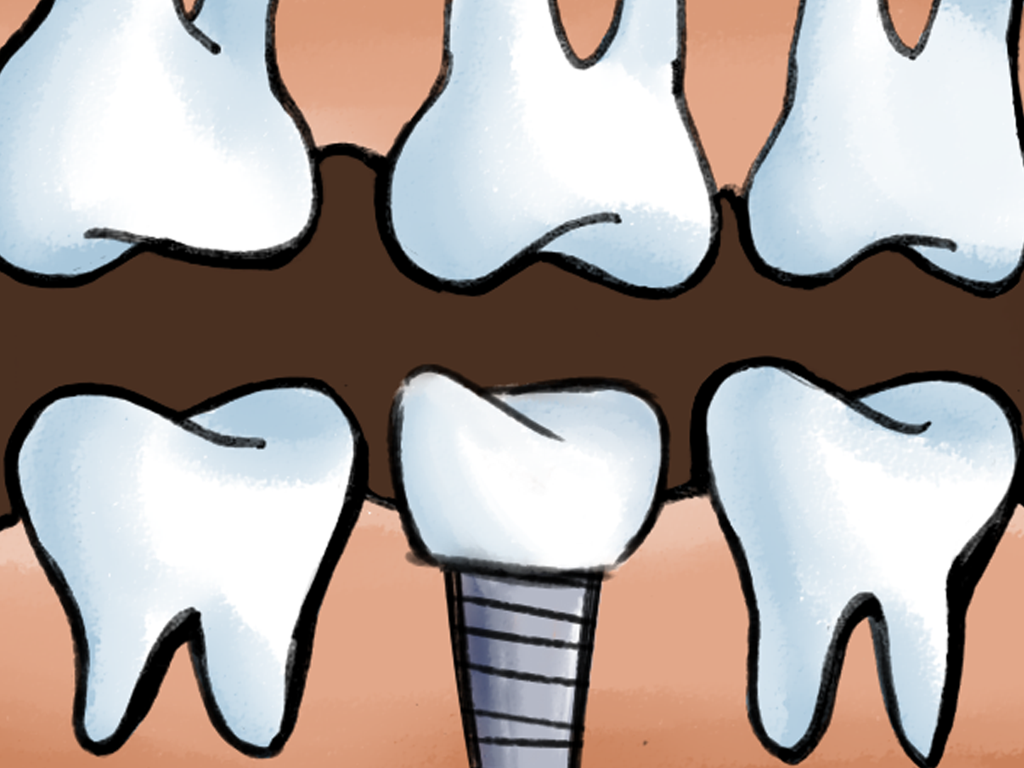 See what our patients are saying about Dental Implants!
Dental Implant Restorations in New York, NY
Your smile and ability to use your teeth for eating and talking is important. At Preferred Dental Care in Chelsea, we have an expert specialist on board that can give you a quality, long-lasting dental implant that can keep you smiling for decades, and our friendly, gentle dental team will guide you along the way. Want to know more about dental implants? Read on below or give us a call today at (212)594-7171!
We're located in Midtown Manhattan between 6th and 7th avenues near the Fashion Institute of Technology in the lively Chelsea district. Click here to find out more information about getting to Preferred Dental Care.
What are Dental Implants?
Implants are the absolute best alternative to natural teeth. They are the closest relatives to natural teeth and are just as strong and look just as good (if not better). Because of the strength, appearance and function of dental implants you can eat, speak, and socialize with ease (just as you would with natural teeth).
Implants are not loose like dentures, and it is very rare that an implant needs to be redone. Additionally, im-plants help preserve the bone in your jaw, which would otherwise be lost over time if you have missing teeth or dentures.
Implants are very safe, with a 98% success rate in a large number of long-term (20 years) studies!
Millions of patients worldwide have received dental implants over the past 35 years!
Implants require no special care, just treat them like normal teeth! Implants and the teeth that they support don't get cavities!
Dental implants can be used to replace any number of missing teeth. They can also be used to hold in a denture to make it much more comfortable and functional to use.
When are Dental Implants the solution?
Missing teeth, causing you to avoid that side for chewing and eating.
Gagging while eating or speaking due to dentures.
Denture that hurts
Denture that doesn't stay in place
Loose dentures
Don't like removable dentures
Don't like look of dentures
Feel confident & comfortable when meeting people by not having missing teeth and dentures.
Want to eat steak, corn and other hard or tough foods without worrying about your loose dentures or missing teeth
What is an implant?
A dental implant is a natural-looking substitute tooth to replace missing teeth.
Implants can replace one or more missing teeth.
Eliminate the need for a removable partial denture or complete denture.
Provide support to make a complete denture more secure and comfortable.
Replace old bridges.
Once an implant is placed, it merges completely with the jawbone and becomes part of the tooth arch.
Will my implants look natural?
Dental implants are the closest relatives to natural teeth. In a survey, implants were rated 9 on 10, second only to natural teeth. They are permanent replacement teeth anchored right into your jawbone, just like your natural teeth. So, you can eat, speak, and socialize with ease.
Are implants safe?
Definitely. Implants have been used for about 35 years, and patients can expect a 98% success rate.
Do implants require special after-care?
No. They require the same home care and regular dental visits as natural teeth.
Are age and health important factors?
If you're worrying about your age … don't! The oldest known implant patient is 88; the youngest is 15. Most people in good overall and oral health are excellent candidates.
How long will implants last?
Implants are designed to be permanent, and more than 98% last for twenty years or more.
The Risks of Missing Teeth and the Benefits of Dental Implants
What does the research say about dental implants?
According to a Louisiana State University study. Of 61 patients with dental implants who had pre-viously worn dentures, 88% indicated that their confidence was improved, and 89% agreed that the procedure was worth repeating.
Dental implants can help you look, eat, and feel better.
Millions of people have received dental implants.
What happens if I don't get implants and leave missing spaces?
A missing tooth in your mouth can cause a large variety of problems:
Studies show that people with missing teeth tend live a shorter life than people with a full set of teeth.
When you have even one missing tooth, you are in the active process of losing at least three other teeth. The teeth next to and opposing the missing space will shift into the gap as there is nothing to prevent them from moving. This shifting of the teeth leads to the loss of occlusal stability. Occlusal stability means a good and solid bite, which allows you to easily chew and eat food. As the teeth shift into the empty space, the stability of your natural bite is lost and this creates an unstable and dysfunctional bite, which in may lead to damage to healthy and to the jaw joints, leading to pain and difficulty in eating. Comfortable eating becomes an issue and this can result in malnutrition and health problems. Apart from the obvious esthetic/visual downside of shifted and missing teeth, this can also lead to jaw pain, jaw problems, joint issues and headache.
Replacing the missing teeth/spaces in your mouth leads to:
Improved appearance, comfort and improved self-esteem
Maintain healthy adjacent teeth and longer life
Your tongue moves more naturally as you speak--without whistling or lisping.
Added benefit: No further bone loss:
Missing teeth lead to bone loss, which can be very severe.
Normally, the bone in the area of a tooth is maintained by your body. But if a tooth is absent anywhere in the jaw, the bone will slowly atrophy (disappear). This can progress to the extent that the nerves in your mouth, which are usually covered up by the bone, can become unprotected, leading to increased sensitivity and burning sensations in the gums.
By placing an implant in your mouth, the implant stimulates the bone so that your body will continue to maintain the bone in the area, much like a natural tooth.
The loss of bone can contribute to a weakened jaw as well as an older-looking appearance.
Your face can appear compressed and squished, and the area around the mouth can sag as the bone is lost.
Added benefit: Improved function:
Implants can provide the same biting force as a natural tooth, making eating an easy and comfortable expe-rience. Patients with dentures often cannot bite hard foods without causing pain in the gums, either because the dentures move or the gums are so sensitive they can't withstand pressure from the denture. Studies have shown that people with natural teeth bite with an average force of 50-75 psi. People with dentures typically bite with a force of less than 20 psi! Its no wonder that studies show that people with dentures often swallow large pieces of inadequately chewed food.
Added benefit: No decay
Implants and implant supported teeth do not decay, so you don't need to worry about changes or a loss of function to your implants, or cavities.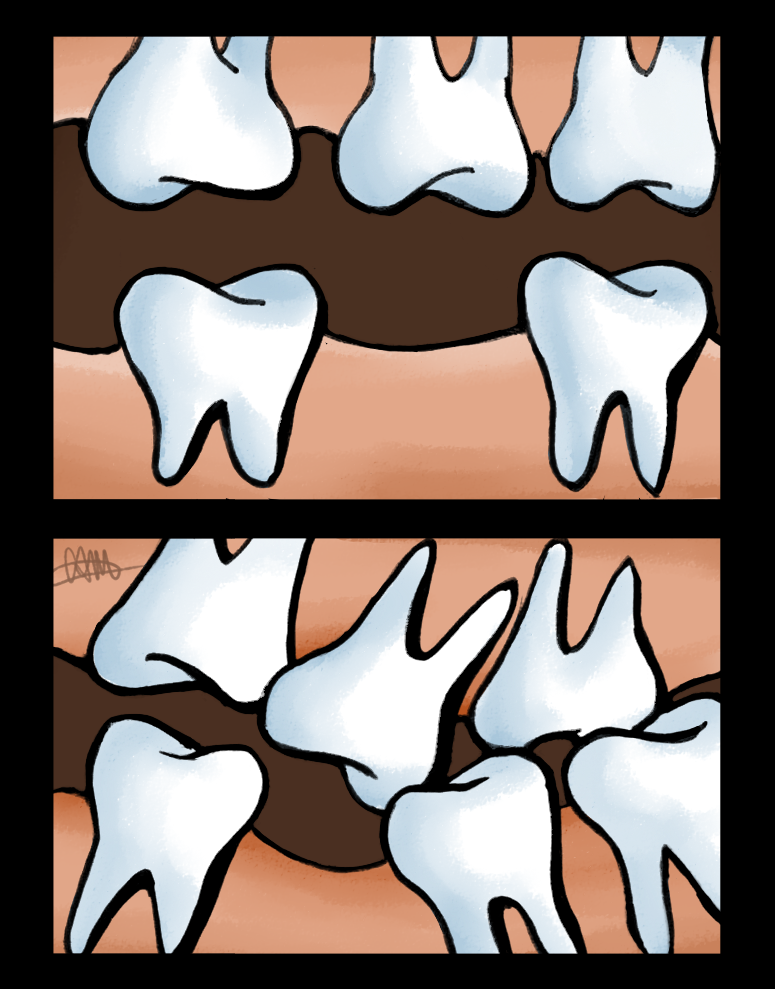 Missing tooth without support. As time passes, the surrounding teeth will shift towards the open space.
Added benefit: No change to healthy teeth
Prior to dental implants, the best and most comfortable type of replacement teeth were bridges. However, bridges require preparing or shaping the adjacent teeth into a stump to allow a crown or bridge abutment (support) to fit overtop of the tooth. In some cases this required cutting down a perfectly intact and healthy tooth. Also, if a problem occurs with one of the abutment teeth supporting your bridge, not only may that tooth be compromised or lost but the entire bridge may be lost as well. By placing an implant, no support is required of the adjacent teeth, and hence your natural teeth do not need to be prepared or changed in any way.
Added benefit: Control of Periodontal disease:
Implants can be less prone to gum problems than natural teeth. In cases where people have lost some or all of their teeth due to gum (periodontal) disease, implants can be used to replace the missing teeth. Because the offending tooth or teeth are removed, the environment in the area improves and you have a second chance at healthy gums. Proper home and professional cleaning is still very important for long term health. However, since implant surfaces exposed in the mouth are very smooth, there is typically less plaque and tartar buildup with implants.
Better appearance:
Implants are designed to blend perfectly with your mouth, creating a healthy and attractive smile. Unlike dentures, implants are not loose nor do they wiggle, so there is no need to have any embarrassment from ill-fitting teeth.
Dental Implants Procedure
How the procedure is done: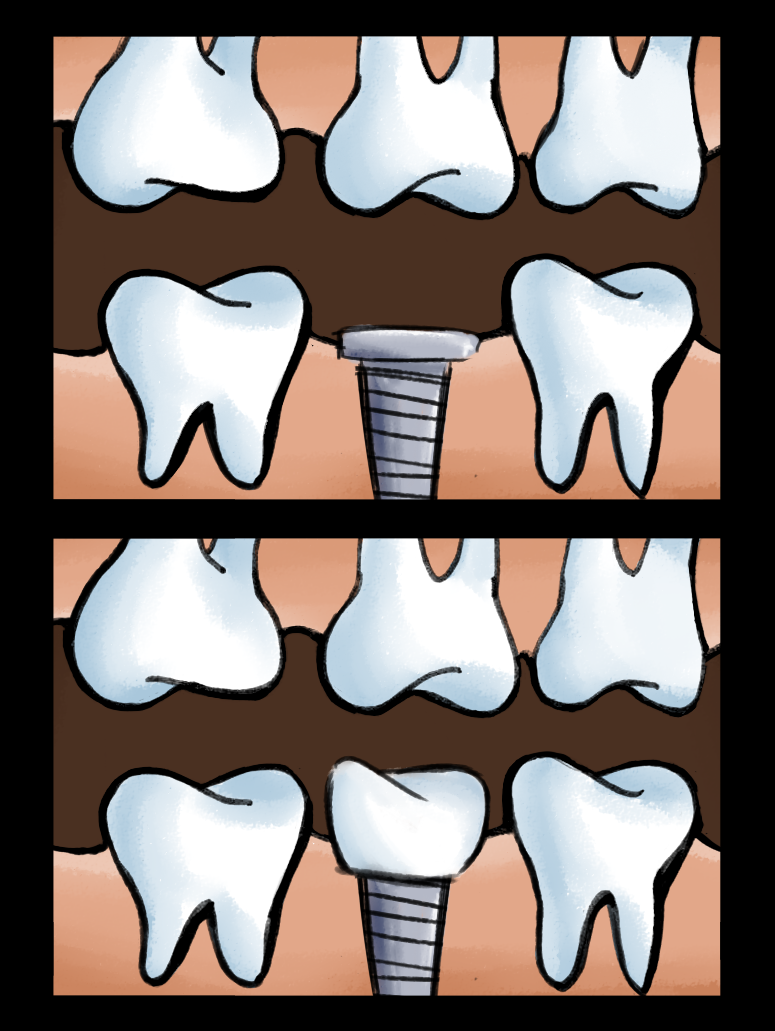 Missing tooth with a dental implant for support. The implant root will permanently hold its place and keep other teeth in their places.
Your dental implant is placed by surgically inserting it into your jawbone. The implant is usually a titanium cylinder that is threaded on one end to allow it to get a good attachment with the bone. Titanium metal is used because of its compatibility with bone and oral tissues. The bone will naturally fuse with the implant over time.
Once the implant has fused appropriately with a bone, a small stub called a healing abutment will be placed on top of the implant. The abutment will keep the gums from falling into the implant. After complete fusion between the implant and bone has occurred, a permanent abutment will be placed on the implant and an im-pression will be taken to send to the lab. The lab will then create a permanent crown which is matched to the color of your other teeth and looks 100% natural and this crown is placed on the abutment and your procedure is complete.
The process of your jawbone growing into and uniting with the surface of the implant is called osseointegra-tion. This takes anywhere from two to six months to be completed and is an integral part of your implant procedure. Once the bone has fused with the implant, it has formed a solid base to support your new artifi-cial tooth. This functions in the same way as roots do for natural teeth.
Dental Implant History:
Dental Implants were developed in 1952, in a laboratory in the university town of Lund, Sweden by Profes-sor Per-Ingvar Brånemark, who had a "lucky" accident during bone grafting research. Much to his dismay, Dr. Brånemark discovered that it was impossible to recover any of the bone-anchored titanium microscopes he was using. The titanium plate had apparently bonded irreversibly to living bone tissue, an observation which contradicted all scientific theory at the time.
Dr. Brånemark went on to demonstrate that under carefully controlled conditions, titanium could be structu-rally integrated into living bone with a very high degree of predictability, and without long-term soft tissue inflammation or rejection. Brånemark coined the name "osseointegration," meaning the attachment of healthy bone to a titanium implant.
Thus dental implants were born and the first application of dental osseointegration was the implantation of new titanium roots in an edentulous (toothless) patient in 1965. Dental implants have shown a 98 percent success rate and long-term studies continue to show improving success.
See What our Patients are saying!
"I just found out that I started with Dr. Kamdar in 2003! Time sure flies! I have has nothing but a wonderful experience with all staff since the beginning. Everyone is so friendly, so professional and very patient with me. I had crowns and an implant, now fillings (I never had cavities) and a cleaning every 3 months. I will never change dental offices as long as Preferred Dental Care is here. Keep up the good work! And thank you for everything!" – Doreen M., Patient Success Story
"Went in for cleaning got a root canal (much needed) and plans for two future extractions, implants and a close to my gap that I've hated forever. I'm actually pretty satisfied. Excited for the next phase even. The X-ray tech, the hygienist that did the cleaning, the dentist that performed the procedure and even he receptionist that scheduled my follow up were excellent and ensured my comfort throughout. Amazing experience" -Camille F., Patient Review
---
Getting to Preferred Dental Care, Chelsea NY
Use the Google Map below to plan your route. We're easilly accessible through many train and bus routes along midtown Manhattan and we're near major landmarks such as the Fashion Institute of Technology, Penn Station, and Madidrson Square Garden.
If the map doesn't work on your browser, or you prefer the full page map. click here.